Population health is a complex interdisciplinary domain.
My current research focuses on the application and evaluation of informatics solutions within the context of population health. This emerging and rapidly growing domain of research and development is called "Population Health Informatics" (PHI). See this paper and this chapter for additional information about PHI.
A key role of PHI is to improve the population health analytic cycle, which starts with data collection, followed by data preparation, data mining, model development & validation, knowledge sharing, and finally closing the loop by a learning health system that applies these models and feeds new data back in the loop (see diagram below).
I am specifically interested to assess the opportunities and challenges of integrating non-traditional data sources (e.g. EHR data, social determinants of health data) to improve population health analytics (focusing on stage #1 to #4 of the diagram).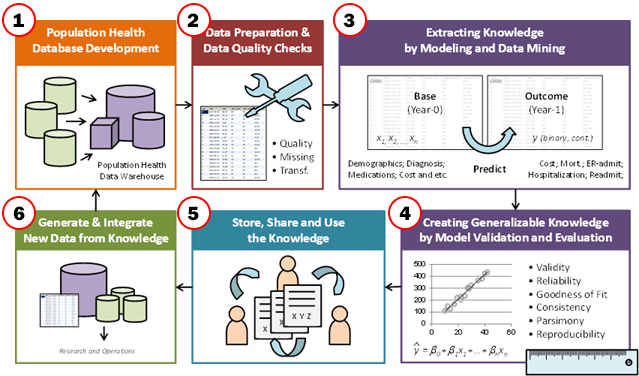 Here is the list of the population health informatics sub-domains and my research contributions to each of them (selected list of publications – see my CV for the full list):
( 1 ) Identifying New Data Sources
Finding external data sources that can be merged with a given population-level data source is often a burdensome task. Systematically reviewing these data sources and developing "data catalogs" that can make them readily available to population health researchers is an approach to overcome this problem. Funded by AHRQ and NIH, we devised a framework on how to systematically review data sources (not publications), what data specs should be coded, and how the data should be presented. Our work was focused on data sources used in
Obesity
and
Suicide Prevention
studies.
( 2 ) Measuring and Comparing Data Quality
Population health analytic often deals with real-world data, thus data quality issues (e.g., completeness, accuracy, timeliness, provenance) can affect the results and their generalizability to various healthcare settings. In addition, data quality will be vital to the integrity of population health analytic in the near future as the field is moving toward using new sources of data (e.g., EHRs, HIEs) that have varied levels of quality. My work has focused on challenges in
using EHR data for clinical phenotyping
as well as
using HIE data to predict hospital readmissions
. My work on cleaning BMI data (e.g., weight and height) in large datasets, and assessing the reliability of geo-driven social determinants of health is currently underway.
( 3 ) Extracting Novel Data Types
A major contribution of PHI to population health analytic is providing new methods to extract novel types of data from various data sources. For example, the free-text of EHR includes ample information about individual patients that can be used in risk stratification efforts; however, these extra information are often missing in encoded fields of EHRs. In a prior study we assessed the
value of free-text in identifying geriatric syndromes
(which are predictable for utilization). We also assessed how the
physician's mention of frailty in the free-text is associated with this information
. We are currently evaluating the added-value of free-text for social determinants of health.
( 4 ) Advancing Predictive Modeling Techniques
Perhaps the most vital impact of informatics in population health analytic is to assess the added-value of novel data sources/types in improving model performance. We have studied the
value of EHR data (structured diagnostic and medication data) compared to insurance claims
. This study became the foundation for EHR-derived risk stratification integration. We then studied the value of
comparing EHR prescription data to claims' filling data to measure patient's adherence
and using it as a predictor for utilization. Using the geriatric frailty data generated by previous studies (see #3), we assessed the
value of such free-text-derived frailty markers
in improving utilization prediction. And, we also evaluated the
added-value of common laboratory results
in improving risk stratification models. Our work on integrating vital signs (e.g., BMI and blood pressure) in our predictive models are in-press. We are planning to integrate social determinants of health and other novel data sources in the near future.
( 5 ) Learning Health System & Policy Implications
PHI is often affected by health policy and organizational changes. Our prior research resulted in
defining the PHI domain, and identifying the high priority R&D efforts
. We also edited a
special issue on PHI
(and community health informatics) to expand the idea of PHI. Recently we have predicted the
adoption of higher functions of EHRs among hospitals
which will be key to deploying population health management solutions.
More about PHI's current challenges and future opportunities can be found here:
What is PHI?